I am a city girl. But with that said, I have not always lived dowtown.
While downtown Vancouver was the place I came almost every day of the week to work and play, for many years I didn't think I would feel "at home" living there.
In hindsight, this notion now seems wildly ridiculous. You see, once I made the move and officially became a downtown dweller I quickly realized that never before had I lived anywhere that felt more like home.
In addition to the effervescent energy and fitness-focused west coast vibe that I love so much, I quickly discovered how many community focused public spaces there are here in the city. These places quickly began to feel like my neighbourhood, and even though I live just a few minutes outside of the downtown core now, I still feel like these places are an important part of my community. In fact, I continue to visit them regularly!
In honour of the fantastic playful public spaces in downtown Vancouver I want to share a few of my faves, both new and old. Be sure to check them out!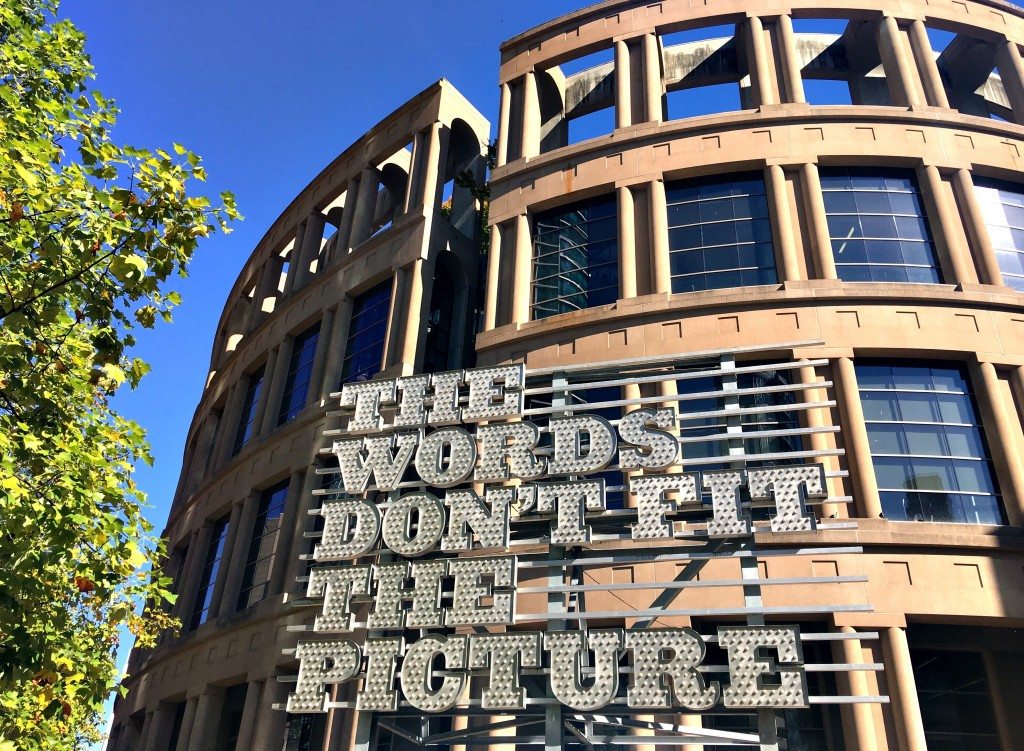 The steps on the west side of the Central Branch of the Vancouver Public Library are a popular spot for folks to meet with friends, enjoy their lunches, and take in the unique vibe of the Crosstown district.
Drawing an eclectic mix of office workers, library patrons, and those who just happen to be passing through, this is one of my favourite places to take a break from the day and re-connect with both myself and the city.
There are no tables or chairs, but I find the simplicity of pulling up a piece of pavement and parking myself on an unoccupied portion of the stairs a refreshing break when I am having a day that may be feeling particularly regimented.
The Vancouver Public Library's Central Branch is located at 350 West Georgia Street, but this gathering spot can be found by the library's back entrance at Homer and Robson.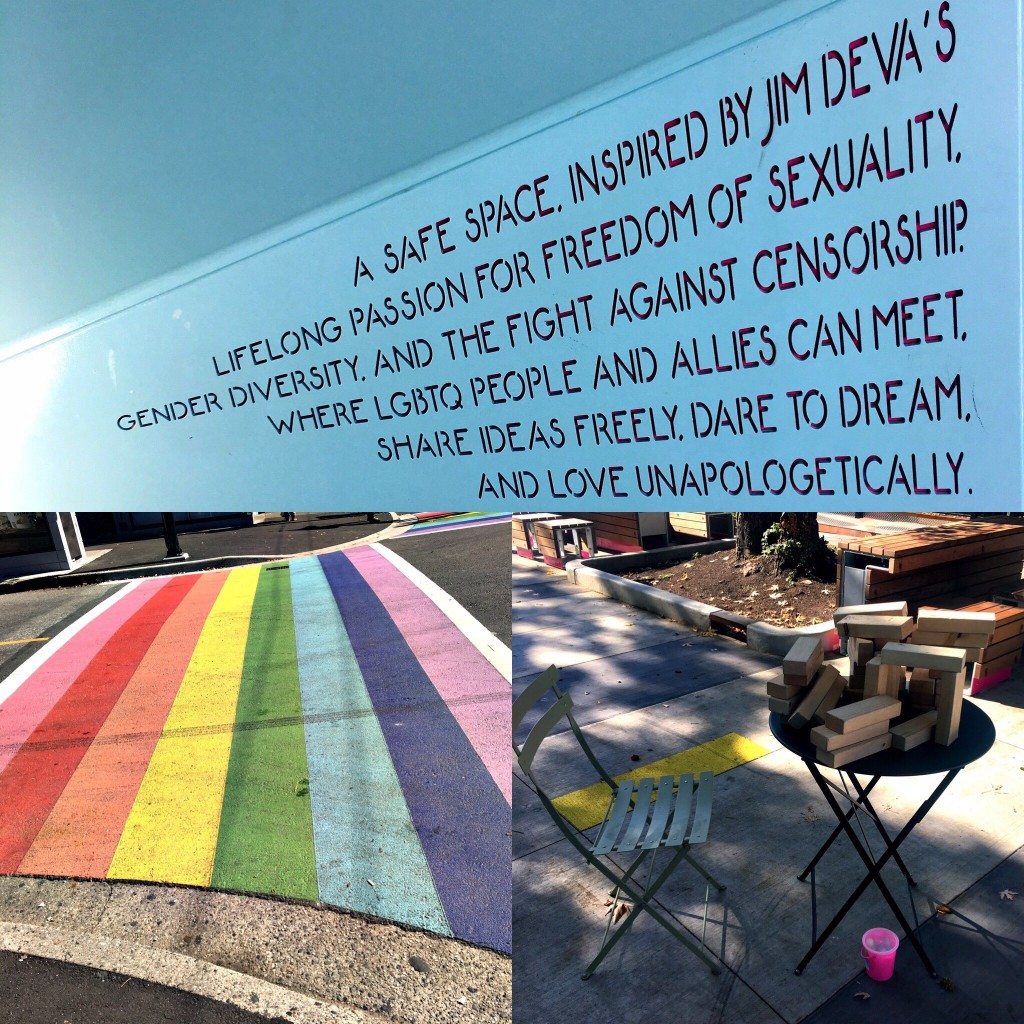 Recently, the City of Vancouver has increased their dedication to creating vibrant public spaces through their Viva Vancouver program, and Jim Deva Plaza in the West End is the city's first "pavement-to-plaza project".
Built to commemorate Jim Deva's extensive advocacy work within the local community, this unique gathering place offers plenty of seating, a delightfully inclusive vibe, and rainbow crosswalks that lead guests to this lively destination.
During my last visit, the plaza was bubbling with a level of activity one would not typically expect on a weekday afternoon. Local merchants were enjoying late lunches with co-workers, seniors were sipping coffee while basking in the last of the summer sunshine, and a small group of friends played a highly spirited game of Jenga with the public game pieces. It was fantastic!
While this space has only been open since July 28th, 2016, it has quickly become one of my favourite places in the city. And based on the large number of happy folks I continue to encounter there, I think it is safe to say that I am not alone in this sentiment.
Jim Deva Plaza is located at the corner of Bute and Davie in downtown Vancouver.
To find out more about community events held at the plaza, or to learn how you can hold your own even here visit the City of Vancouver's website.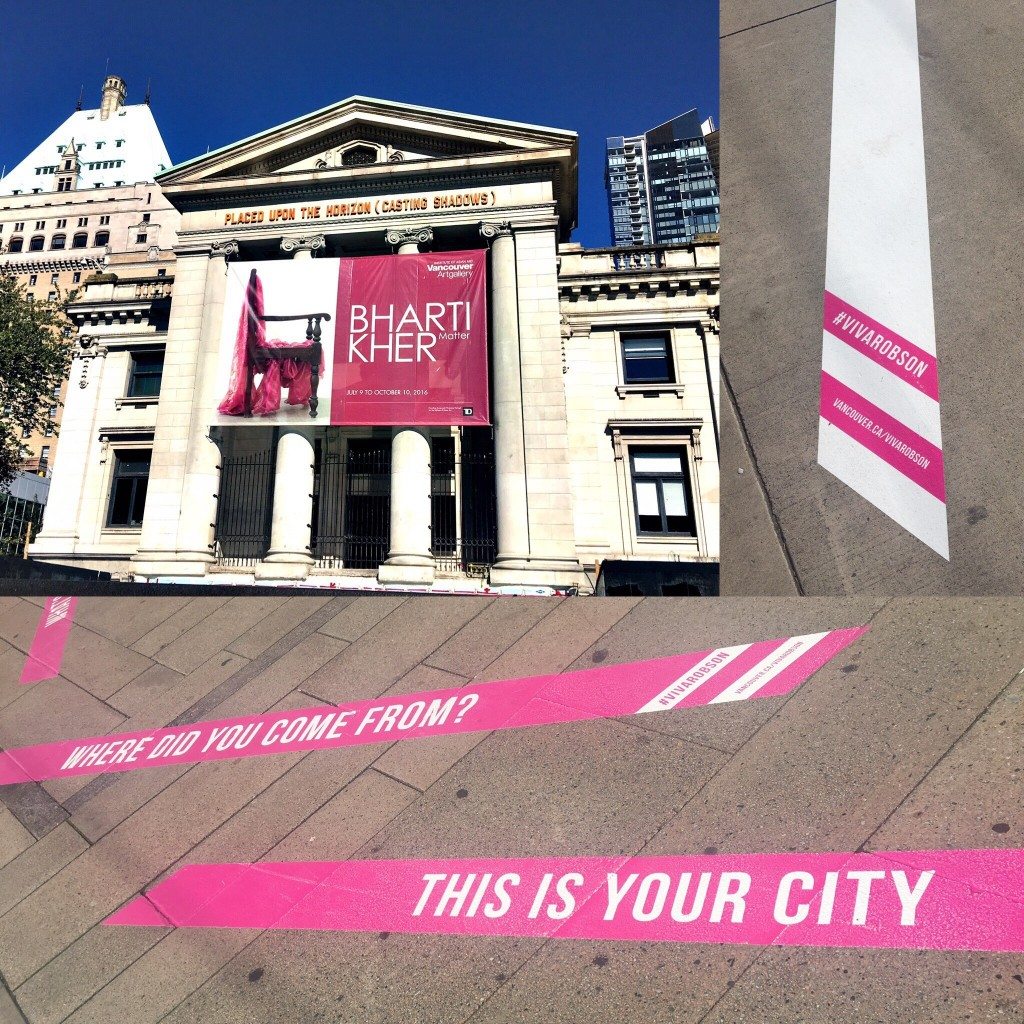 For decades, the steps of the Vancouver Art Gallery have been a place where people from all walks of life have gathered to come together as a community.
From taking a tipsy time-out during the late night shenanigans of our college days to grabbing a sandwich with a co-worker on a sunny Friday afternoon, I think it is safe to say that most long-time Vancouverites have found ourselves at one time or another sitting on the steps of the VAG, feeling like we were perfectly at home.
No matter who you are, what you do, or where you come from, the steps overlooking the North Plaza of the Vancouver Art Gallery have historically served as a refuge and gathering place for all.
Over the past several summers the face of this space has changed slightly due to the closure of the 800 block of Robson Street and the erection of temporary VIVA Vancouver public art installations designed to encourage people to use the additional space. Based on the success of these short-term initiatives, it was decided earlier this year that the street closure would be permanent, making way for the entire area to become a public plaza.
While the steps are currently closed as renovations get underway, don't let this deter you from visiting this iconic public space. Regulars and newcomers alike still gather in the vicinity to play chess, share ideas, and take a break from their day, just as they have always done. Pretty cool, right?
Public consultation is still ongoing, so if you would like to have your say in shaping the future of one of the city's favourite public spaces visit the VIVA Robson section of the City of Vancouver's website and complete the questionnaire.
The Vancouver Art Gallery and the North Plaza are located in the 800 block of Robson Street in downtown Vancouver.
Nicole Westcott is a Vancouver dwelling, Fluevog wearing, canine enthusiast who loves this city! She is the Community Manager at Aquilini Centre West, and her favorite ways to play include exploring new food and beverage experiences, dancing until dawn, and whipping around the Vancouver Seawall on her beloved bicycle, "Elwood".