Tis the season to have a holiday mixer or the in-laws over at your place: Not prepared? DON'T PANIC *Que Tchaikovsky's Sugar Plum Fairy song*… I have you covered… and even including have a few useful tips to help make your night a success. Read more for ideas that don't break the bank, read below!
Dinner

Party

or 

Cocktai

l

:
Food: Potluck or BYOP
Tell your guests to bring platters, all quick and easy! BYOP (Bring your own platter… but share!
Oh no! Don't tell me that Aunt Betty is not going to bring her famous Christmas jello dish!…. (Can I get a Hallelujah!) Potluck items are the best way plan a variety of dishes
You're hosting, be in charge let people know you are open to new dishes BUT keepin' it simple and easy is best (and more likely to be popular too)
You provide proteins (turkey/chicken etc) and ask your guests to bring the vegetable and carb dishes!
This also is a way for everyone to have something they enjoy

#winning

I know this sounds funny, but TASTY on Youtube is my go to. Take a look at what they have to offer…
Beverages:
Drinks/Cocktail Feature, guests to bring a bottle to the table
If you prefer the more standard glass of wine or if you are more extravagant, why not have each guest bring a bottle of wine (Like Miss Frizzle said, sharing is caring!)
Holiday Negroni: Instead of an orange garnish with a cranberry & mint leave?
Candy Cane Martini: Peppermint Schnapps & an actual candy cane… oh man, why not? Can I get an

#amen!

Dark & Stormy: Why not swap the ginger beer for cranberry ginger ale & mint? Could be interesting…also MINT is so 'in' right now
Give a Kick to your eggnog, with a dash of cinnamon flavoured Kahlua .. Mmmm
If you need some inspiration hit up this site below
Decorations:
Do you have these killer ideas, but not wanting to invest in over the top décor?
Pinterest is my BIGGEST support or even Daily Hive!
No Fireplace? No problem, around this time of year, channel 3-6 (depending on your region etc) has a fire on repeat.. how cozy! Heat doesn't come included though, sorry!

#notsorry

Gather what you can outside, for a cute piece by piece of your dinner table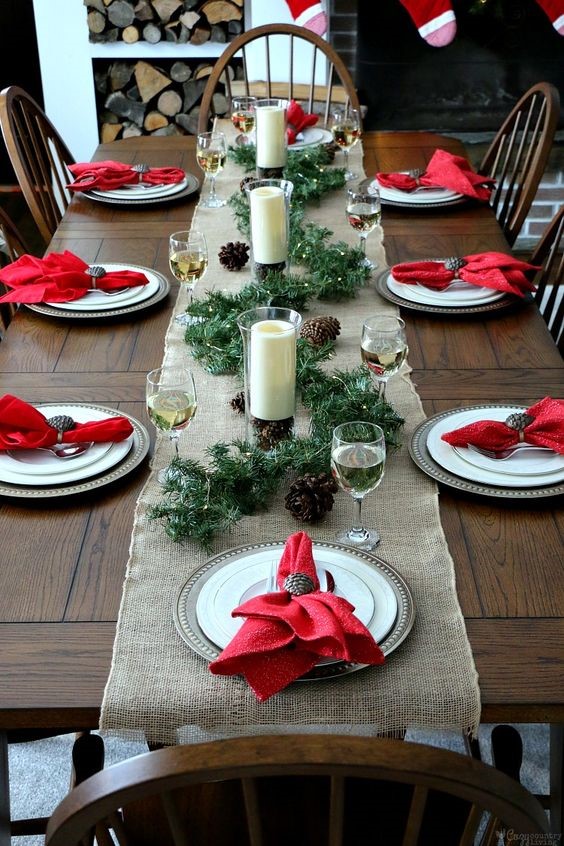 Courtesy of cozycountryliving.com & pintrest.com
Activities:
Dessert entertainment, decorate your own cookies?
Bake sugar cookies and decorate them after
'Pin-on' Christmas Sweater: Here is an idea… instead of coming to the party with an already

#UGLYChristmas

sweater…why not come with a plain sweater ready to be ugly-ified (yes.. not a word but you get it!)
All you need are some ornaments and some safety pins and BAM you have yourself a low-budget, yet ultra-stylish Christmas sweater
Making the night memorable:
Photo Op that's Instagram worthy!
Download & print fun little props to use in your photos
Wrapping paper backdrop
iPhone tripod; Best

#selfies

!
Gifting:
Christmas parties are always enjoyable with these fun little ideas here and there. If you feel the need to bring a gift, donate to your favourite charity and give your host a card with a message, "Your gift helped a child in need", I doubt the host would object to that gesture and it's for a great cause! Enjoy the amazing moments this holiday season has to offer by creating a great way to spread #cheer, and to enjoy the company of friends and family!
Shout out to Daily hive, Pinterest & Tasty for excellent ideas on my party-go-to's, be sure to check them out!
Carly; Social Community Coordinator, Aquilini Centre