There are a lot of buzz words saturating the food scene lately. Terms such as "farm-to-table", "sustainable", and "free-roaming" are peppered throughout menu descriptions with such frequency that we often simply scan over them.
While we still want our food to be all of these things, for those looking to make healthful and holistic food choices it can be difficult to navigate. Words that were once touchstones have been appropriated and redefined into mainstream marketing jargon, leaving many looking for some deeper connection with the food choices they are making.
Enter, Juniper.
One of the latest restaurants to arrive on the hip, Keefer Street scene, this new kid on the block is offering up a whole new niche for those looking to connect with their culinary experience.
I was fortunate enough to have the opportunity to sit down with Juniper's head chef, Sarah Stewart, in advance of her appearance at The Wellness Show next Sunday and chat with her about wellness, community, and Chinatown's newest restaurant.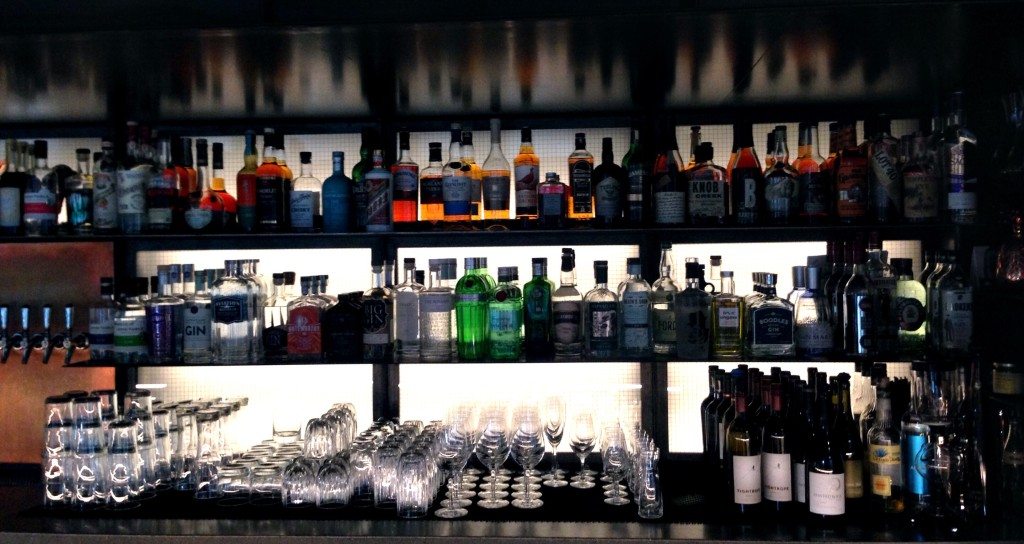 Gin is definitely on the menu at Juniper
Juniper specializes in "seasonal Cascadian-inspired fare", which is something that I asked Stewart for clarification on early in our conversation. She acknowledged that it's not a term that we hear a lot in Vancouver, but that the movement is pretty common throughout Washington and Oregon.
I learned that while it can be viewed as a fancy way to say the Pacific-Northwest, it is the commonalities shared by the Cascadia bio-region (most often defined as being comprised of southern British Columbia, Washington, Oregon, and parts of northern California) such as climate and resources that help define the food component of the movement.
"So, if I am just cooking simply within Canada then I guess because I am from Ontario I harken very much to those growing seasons. But now (cooking Cascadian) I give them a little more play, a little more seafood, a bit longer vegetable growth, a lot of interesting foraged food, that sort of thing" Stewart explained. "Different foraged stuff, but I think it's just cooking seasonally, and with some open-mindedness."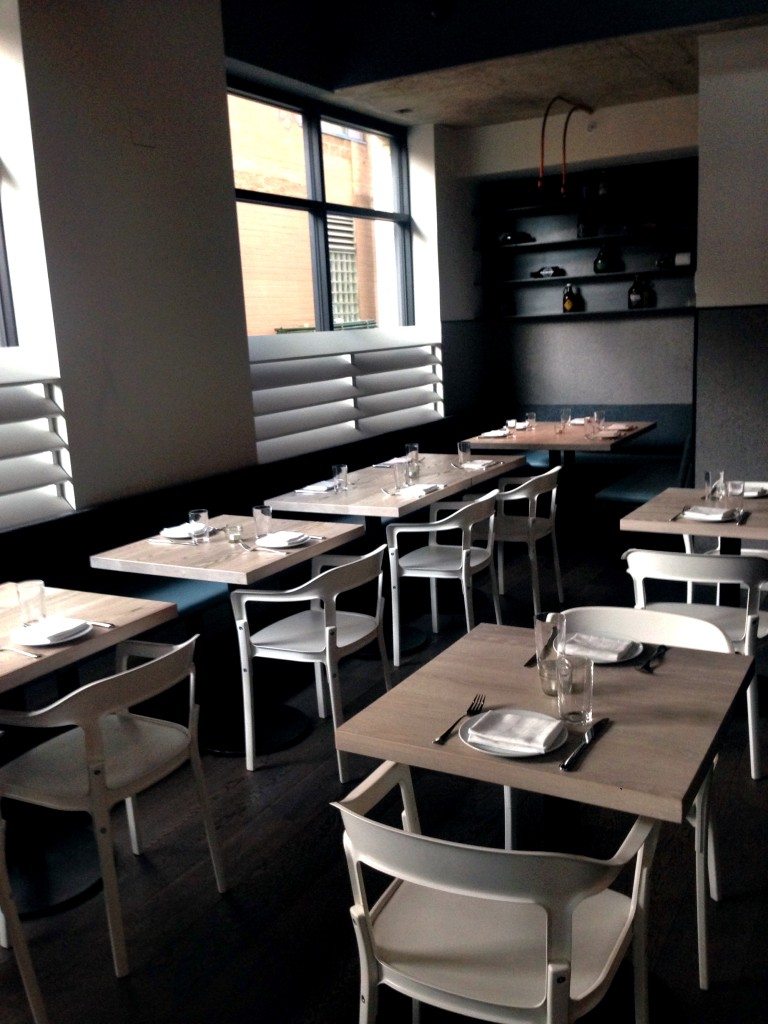 Inspired by the look and feel of a distillery, each of Juniper's four seating areas adheres to its own moody, Cascadian colour palette
One of the things that piqued my interest in Stewart's bio is her passion for building community through cooking, and I was anxious to learn more about that.
She explained that during the ten years she lived in Toronto she was heavily involved in volunteerism. "The food and chef community was very active, I guess both politically and socially, in the area."
"The Eat to the Beat fundraiser was very cool with all female chefs trying to raise money for breast cancer. Everybody is just so willing to volunteer all their time, and I think it ends up being a very collaborative community, and I think by being involved you give back. You are more aware of the community."
Stewart believes that it was this volunteerism that made her stay in the food industry, and over the next year she plans to increase her involvement here in Vancouver so that she can provide the same opportunities that she had as she was coming up through the kitchen ranks for the people she works with at Juniper.
"Because lots of young people want to volunteer and want to get involved in things. You as an employer can give them the opportunity to fulfill themselves in more than just working a job, you know? You can cook and make hamburgers somewhere else and it is not very fulfilling, or you can know your vegetables are coming from somewhere great, you know that the people that you are buying stuff from are also supporting the community. And then the people you work with are excited, and on their day off they want to go do something else in the neighbourhood."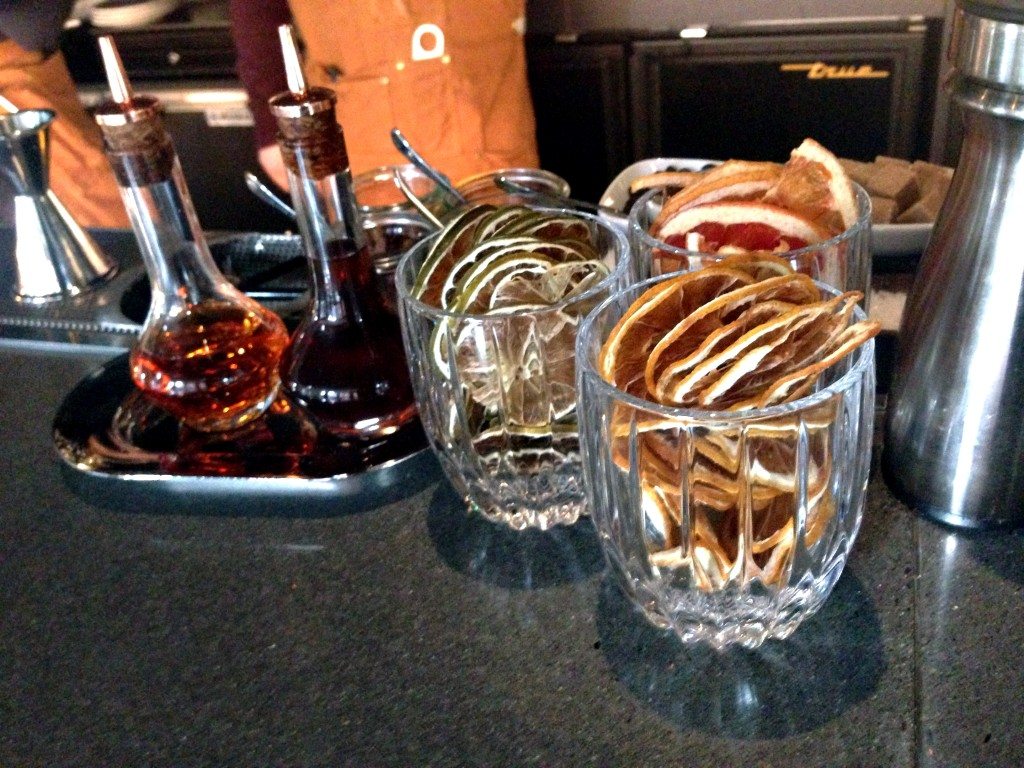 The beautiful dehydrated garnishes on Juniper's bar waiting to adorn one of their hand-crafted cocktails
As our discussion turned back to The Wellness Show I learned that Chef Sarah will be preparing a warm kale salad with blueberry vinaigrette, duck and parsnips when she appears on the Celebrity Cooking Stage on Sunday, February 14th.
When asked why she chose this dish her response was delightfully authentic. "Well, I really like duck."
She expanded by explaining that duck is a healthy fat, which pairs very well with blueberries, another popular Cascadian ingredient.
The BC Blueberry Council and Hills Foods are both product sponsors for Stewart's presentation at The Wellness Show.
While wrapping up our conversation I asked Stewart what jazzed her about participating in the Wellness Show, and her response was equally authentic.
"I just think that anything that gets people involved in a healthier lifestyle is a wonderful thing, and I think cooking is a great place to start with that. If you can combine the obvious things of getting out and eating better, getting away from processed foods then you're, you know…you are winning."
Stewart also divulged that she is especially excited to be presenting at the Wellness Show in her Sunday timeslot as earlier that day one of her favourite authors, Susan Musgrave, will be appearing on the same stage.
"I grew up reading her poetry because I had a teacher that introduced me to it. I always thought she was a pretty badass lady".
Well you know what, Chef Sarah? Following our chat I now think that you are a pretty badass lady yourself.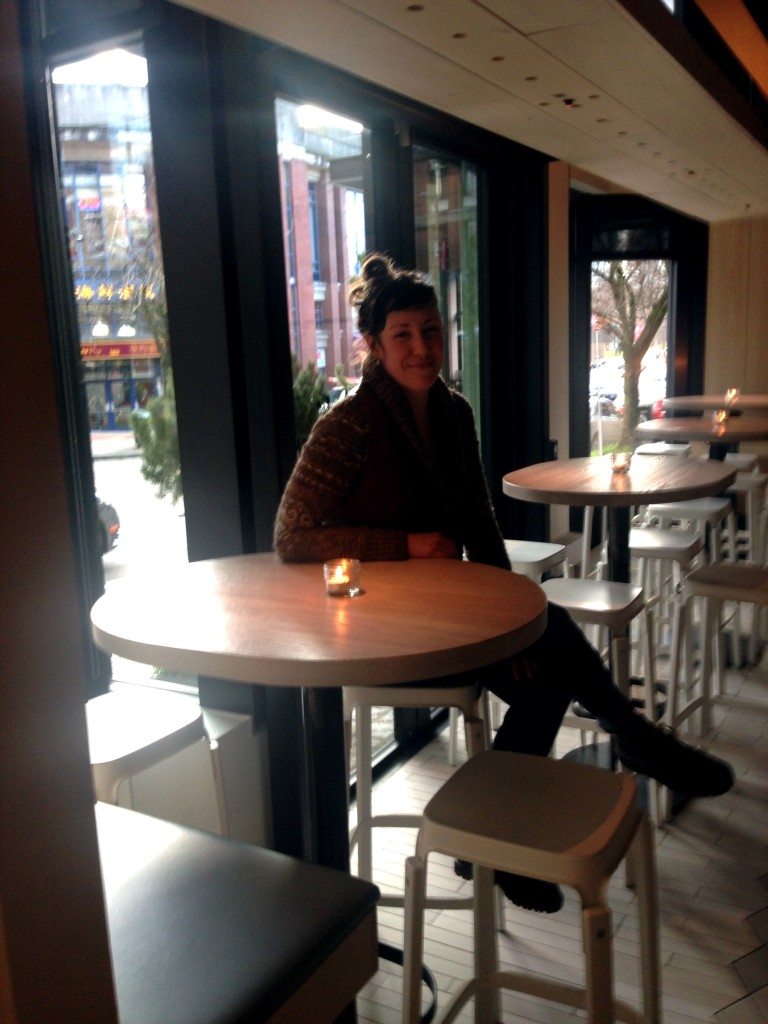 You can catch Chef Sarah Stewart presenting on the Celebrity Cooking Stage at the Wellness Show at 3 pm on Sunday, February 14, 2016.
The Wellness Show runs Friday, February 12, 2016 (12:00PM – 7:00PM), Saturday, February 13, 2016 (10:00AM – 7:00PM) and Sunday, February 14, 2016 (10:00AM – 6:00PM).
Tickets: Tickets can be purchased in advance online, or at the door (cash only).
Location: Vancouver Convention Centre, East Building Exhibit Hall B & C
Nicole Westcott is a Vancouver dwelling, Fluevog wearing, canine enthusiast who loves this city! She is the Community Manager at Aquilini Centre West, and her favorite ways to play include exploring new food and beverage experiences, dancing until dawn, and whipping around the Vancouver Seawall on her beloved bicycle, "Elwood".